Keeping in line with the weekly tradition we've kept for the past seven months, tonight I saw The Dark Knight Rises with my friend Taylor. Now, I would be lying to you if I said I was the world's biggest nerd on all things Batman. I mean, I've never even read one of the comics and the extent of my knowledge is really limited to what I've learned from the films (and most of that is really limited to being able to make jokes about the rubber nipples on George Clooney's bat suit).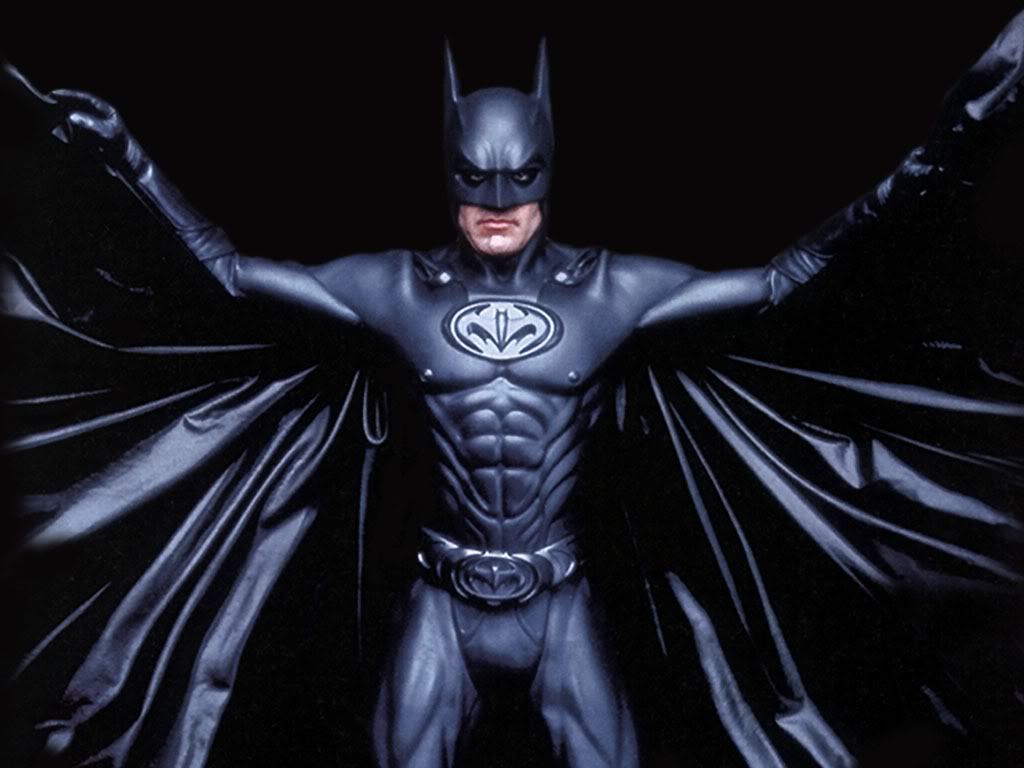 If pop culture has taught me anything it is that I know I am not the only
person who finds the rubber nips to be a funny feature.
Honestly "action" movies have never been my genre of choice, so I normally stay away. But Christopher Nolan, he does it differently.
He takes a story and creates a psychological thriller. He reveals the complexities of characters a pen and ink could never fully express. He shows us the dimensions of good and of evil, all while keeping us tightly gripped to the edge of our seats. A mind like his must always be appreciated.
I'm not going to lie, in lieu of recent events my initial thought on seeing this movie tonight brought with it a sense of guilt. I felt guilty for wanting to see a movie that so many lost their lives while watching. I felt guilty for stepping foot in a space that betrayed so many. And then, I forgot it all. All my guilt was left behind the moment I stepped into the theater. It was as if at once, I felt home.
The movie theater has always been my safe haven. I remember the excitement before watching my first movie in a theater (it was
Babe,
by the way). I remember waiting in line for popcorn with my mom and family friends. As I look back on that day, I will never forget the absolute wonder I felt being able to watch the adventures of that little pig on the big screen. From that day forward there was something special about the theater. And over the years, it has almost become a holy ground for me. The movies have been there when I desperately needed to be alone or when I desperately needed to be in the presence of others. They have been there on awkward first dates and exciting outings with friends. They have presented milestones for me in life, such as when I turned 13 or 17 and was able to watch what deemed by the Motion Picture Association of America as "mature content".
The movie theater has, in a way, become my home. And I am angry, so very angry, that a man has now made me fear my home.
Tonight while watching The Dark Knight Rises, you could tell the entire audience had a new hesitation about stepping foot into the theater which was never there before. At every scene of gunfire, I couldn't help but wonder if it was at that moment people lost their lives. Was this the last thing they saw before they passed away? Was someone going to bust into Theater 9 at The Edge 12 in Birmingham and attempt to repeat such a horrifying act? And why exactly would a man do this? Why would a man violate my home?
If you have yet to see it, rest assured knowing the film is truly fantastic. The cast was superb, the effects masterful and the writing was on key. If you're having mixed emotions about seeing it, if you feel weird about stepping in to watch a movie that will forever be embedded into our history as one associated with such wrongdoing, then don't. Go see the movie and go appreciate the work of one of the greatest filmmakers. Honor the lives of people who like you and me just wanted to enjoy the wonder displayed on the giant screen before them.